We're hosting community workshops led by

Carola Jones

on Tuesdays, Wednesdays, and Thursdays over the next three weeks. These workshops are free and open to the public. Please join us as we bind our blues and heal the land.

Workshops are a three-day commitment, but you don't need to attend every week.
Carola Jones is Algonquin, NC Toisnot Skaru:re (Tuscarora), Gullah & FL Seminole, Southeastern Woodlands Indigenous Knowledge Keeper, creator of natural colors from plants, flowers, nuts & insects, machine & hand stitching, hand embroidery, Pau Wau dancer, working traveler, writer, bundle binder, storyteller, dyeing medicine cloth for modern quilting and seed-to-runway clothing for a living on the Coastal Plains of Eastern North Carolina.
Bring all-natural fabric (100% cotton, etc) to scour. We will also have fabric available for purchase. We'll work with cellulose, silk, and wool.
Every Tuesday, Wednesday*, & Thursday
Aug 8–24
6–9pm
2120 Port St

*No workshop Wed Aug 23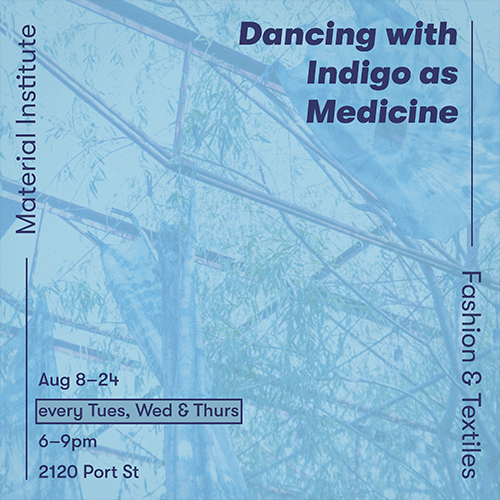 ---
Fashion & Textiles