---
Kirsha Kaechele
Founder & Creative Director
Kirsha Kaechele's projects are based at MONA in Tasmania and New Orleans. In addition to art curation, her projects include: feasts as living art installations – temporal exhibitions in which every element of a feast is sculpture or performance; 24 Carrot – a project that creates kitchen gardens in low income areas of Tasmania and New Orleans; Heavy Metal – an art-science project focused on the mercury contamination of Tasmania's River Derwent; Trascism – Mona's zero-waste initiative, now implemented across their festivals and events; and Material Institute.
---
24 Carrot Garden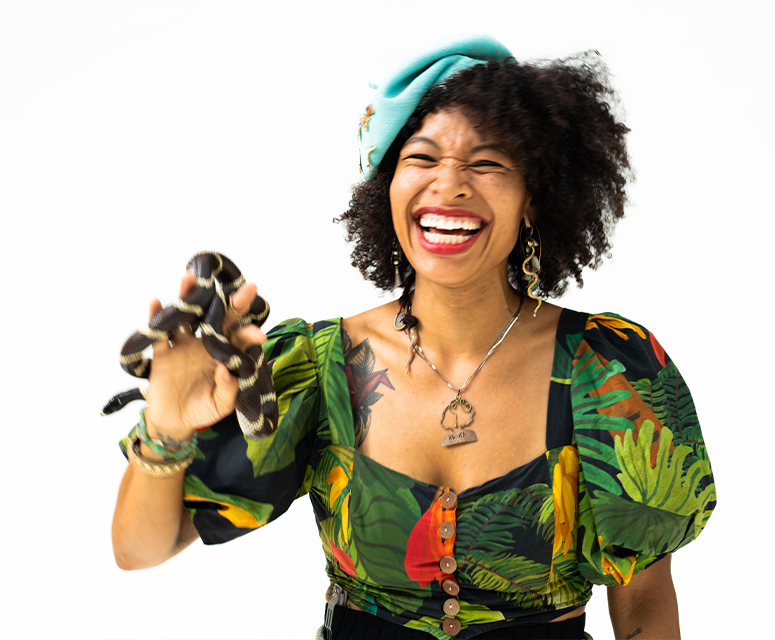 Angel Chung Cutno
Director of Garden Programs and Partnerships
Angel aka magikfox is a youth mentor, multidisciplinary artist, community organizer, and outdoor enthusiast whose family is rooted five generations deep along the Mississippi River. Angel is a certified Louisiana Master Naturalist and has gardened with youth since she was in college at LSU and throughout her teaching career. She rejoined the 24 Carrot team in 2023 to support the expansion of programming and mentoring opportunities for the youth. She connects to her community through Outdoor Afro meetups, masking as Queen of the Black Seminoles, and hosting the nomadic pop-up library RE(ad) TREAT. In 2021, Angel was named as one of Gambit's 40 Under 40 for her community work. When not in work-mode, Angel is a rock-climbing, wheel-riding, reptile caretaker and dreams of opening the world's first Afro-Asian led climbing facility!
Justin James
Director of Garden Education
Justin James is an educator, community organizer, and urban farmer. As Garden Program Manager, Justin cultivates opportunities for youth and adults to deepen their connection with land, food justice, and regenerative practices. He is a recipient of the Braiding Seeds Fellowship Mini Grant (project of Soul Fire Farm Institute in collaboration with the Federation of Southern Cooperatives). Justin is the co-founder of the Woven Roots Community Garden in the 8th ward and co-leads the Port Sisters Farm, a permaculture orchard in the 9th ward.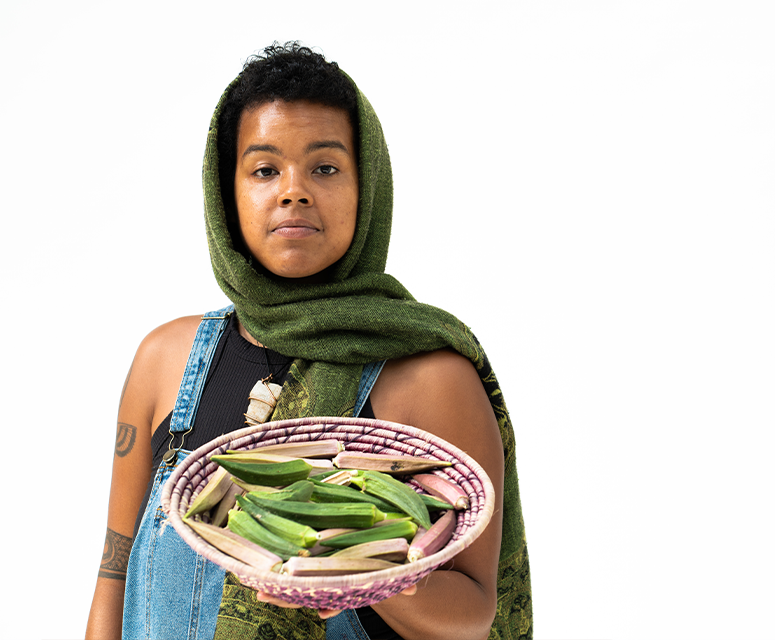 Delise Hampton
Garden Educator
Delise is a mother, doula, multimedia creative, educator, healer, and poet born and raised in New Orleans. As Garden Educator, Delise cultivates youth and adult educational opportunities that are culturally relevant, community-centered, and connected to the restoration of relationship between the land and human nature. After graduating from Howard University in 2015, Delise returned home to affect change in her community. She's hosted sacred women's circles, curated live performances, writing workshops, and gatherings to activate healing through various modalities. She was a 2022–23 recording artist resident where she made 4GIVE, a 4-song EP available only on vinyl. She is known as High Heal Doula or The High Healer. In her spare time, you can find her producing music at Studio Foreva, cooking with High Heal Meals, or catching a baby.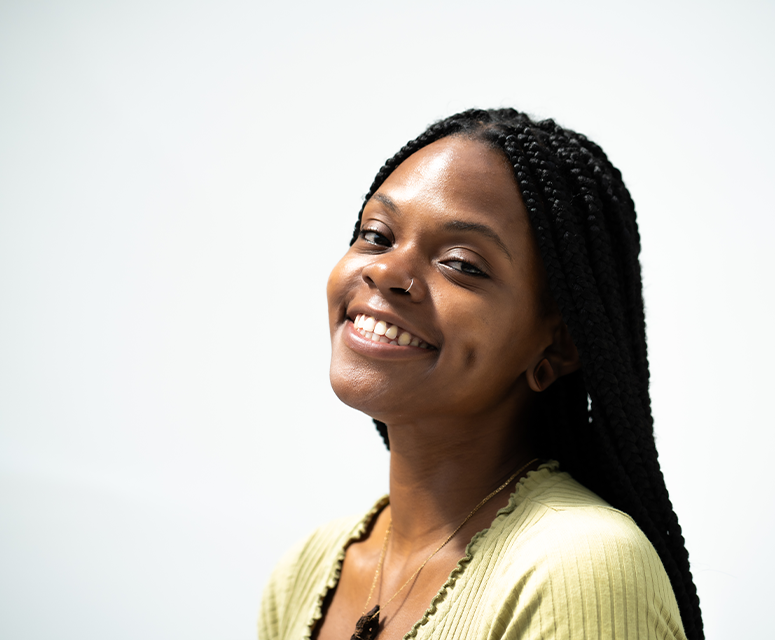 Chef Jas
Culinary Lead
Jas prepares delicious plant-based meals for the Material Institute community four times a week creating community experiences through healthy cuisine. She runs a catering and wellness business called Earthseed Food.
Nashé Renee
Garden Educator
Nashé Renee is a Garden Educator. She works closely with Material Institute's youth and visitors educating them about the importance of growing, harvesting, and composting vegetables. Nashé is also responsible for preparing meals with youth, using ingredients derived fresh from our 24 Carrot Garden.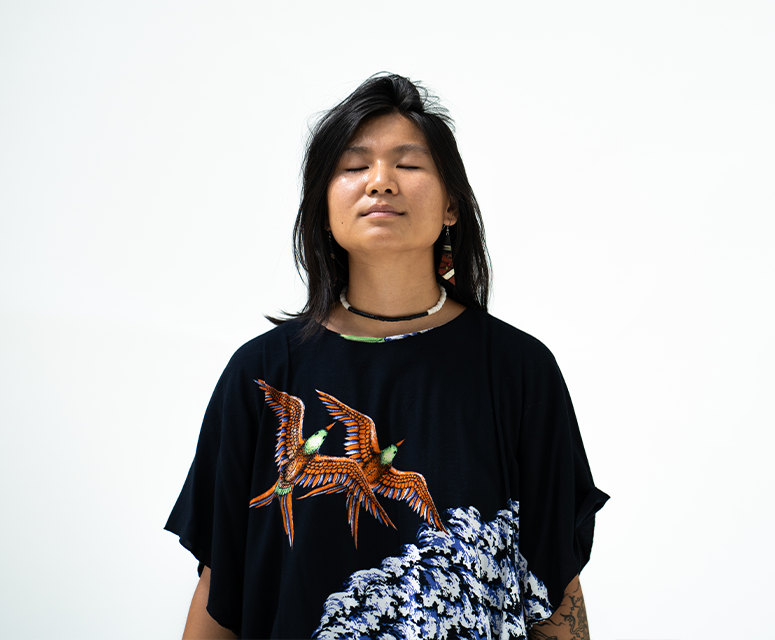 Mia Sanchas
Garden Educator
Mia Sanchas is a multidisciplinary artist, educator, youth organizer, and oral historian. As Garden Educator at Material Institute, she spends her time dreaming up and implementing creative ways to engage community in nurturing their relationship with the Earth and themselves. After graduating from LSU with a degree in International Relations and Spanish (with a focus on Latin American Studies), she has organized multicultural productions throughout New Orleans and Quito, Ecuador. She is the Multimedia Director for Yirkasa, a women's agroecological cooperative in Nandom, Ghana. In her free time, you can find her studying the secrets of the earth and exploring the language of music.
---
Fashion & Textiles
François Boudreaux
Design Chair
François Boudreaux is a multidisciplinary designer. As a Fashion Instructor at Material Institute, he focuses on helping students shape their aesthetics, instilling the process of design, and expanding students' professionalism. François has studied both women's and men's wear design, recently obtaining an MA in Womenswear Design from Central Saint Martins. Outside of teaching, he also has his own contemporary brand FLYSÓN, which focuses on sporty and elegant products.
Frank Freddy
Studio Tech
Frank is a creator. His love for creating inspired him to become a handbag and garment designer, sheet metal fabricator, and an engineer technologist. Using his field and education experience, he has the privilege of helping designers at MI make their ideas come to life.
Norma Hedrick
Head of Studio Culture & Lead Instructor
Norma Hendrick is a fashion educator. She helped establish the Fashion & Textiles department and currently teaches sewing, draping, and patternmaking. Norma studied in Los Angeles under Helen Armstrong concentrating on Flat Pattern Making and with Sharon Tate on Design Room Procedures. Norma worked in the design room of Lillies of Beverly Hills and was a former model as well.
Maria Lisogorskaya
Materials Strategy & Design
Maria is a founding partner of Turner Prize winning art and design collective Assemble. Her projects range from the scales of product and material prototyping and experimentation to spatial design and organizational strategy. Assemble partnered with MONA to create the Fashion Department at Material institute, where Maria leads on department development, and special projects such as the Tufting Gun Tapestries for the Chicago Biennial, Pandemic Projects, and the first pilot show. Previously Maria has taught master's design studios at Central Saint Martins, Vienna University, and EPFL Lausanne, as well as lecturing and exhibiting internationally.
Amani McCutchen
Program Administrator
Amani is a fashion entrepreneur, content creator, and the owner of Saint Miraj. Saint Miraj is an online apparel store and brand that mixes vintage and modern trends. Amani works closely with program directors and instructors to plan, coordinate, and execute all aspects of the program's administrative needs. She also assists with marketing, events, and content creation.
Gina Minor Allen
Graphic Design Instructor
Gina is an instructional designer with over 20 of years experience in instruction and digital design. She is the author and illustrator of There's An Alligator in Audubon Park! and lives in New Orleans with her two sons.
Ilse Nina
Program Manager & Textiles Instructor
Ilse began working with Fashion & Textiles at the beginning of 2021, when she introduced knitting machines to the facility. She continues to grow the department introducing donation-based resources that provide accessibility to textile education offered here. Her classes explore sustainable design practices, digital garment illustration, and material experimentation using analog knitting machines.
Marwan Pleasant
Open Studio Manager & Instructor
Marwan Pleasant was born and reared in New Orleans. Under the tutelage of his grandfather, Big Chief Monk Boudreaux, he's been a part of the Black masking Indian tradition since being able to walk. His drive at a young age appointed him as an instructor in the Fashion & Textiles department teaching traditional beading techniques and appliqué designs. His fashion brand is called Marlence.
Gurleen Rai
Illustration Instructor
Gurleen is a freelance animator and illustrator. Her films have screened internationally, and clients include FXX, Vox Media, and Antigravity Magazine. She has a Bachelor of Design in Fashion Design from Ryerson University in Toronto, Canada and an associates in Illustration from the Fashion Institute of Technology in New York City.
Eliza Wapner
Natural Dye Instructor
Eliza is an artist specializing in natural dye and textiles. As the Natural Dye Instructor at Material Institute, Eliza teaches designers how to create color and surface design on fabric and garments using plants as dye. She is particularly interested in indigo and its cultural significance as well as utilizing local color. Eliza graduated with her BFA in Studio Art from Syracuse University in 2016 and has completed artist residencies in the US and internationally. She has a small brand, Lil Bits Cloth, specializing in naturally dyed clothing. Outside of work, she enjoys exploring local waterways, baking elaborate cakes, and walking her dog.
---
Music | The Embassy
Aimée Toledano
The Embassy Program Director
Aimée is an artist from New Orleans. As Program Director of The Embassy, she co-designs recording arts programming, leads department development, and produces live performances and music videos. As a filmmaker and photographer her work has shown at The New Museum, Museum of Modern Art in Warsaw, and Serpentine Galleries and has been published in the New York Times, Art Forum, and Rolling Stone.
Andy Gross
Lead Recording Artist Residency Engineer
Andy is an audio engineer and artist. As Lead Recording Artist Residency Engineer he records, mixes, and masters artists' projects. He graduated from Tulane University with a degree in Political Science and Philosophy and worked in client services at the Orleans Public Defenders office before pursuing music full time. As a performing artist, he's released and toured multiple self-produced projects performing with acts such as YG, Freddie Gibbs, and Lil Uzi Vert. Andy has engineered music since 2015, working on indie rock, rap, pop, jazz, and everything in between. Outside of music and work, he enjoys writing poetry, painting, and baseball (Go Mets!).
Matthew "HU$H" Lee
Digital Audio Production Instructor
HU$H is a multi-instrumentalist, producer, and performing artist from Louisiana. He played drums in a metal band as a teen. This led him to creating his own music, beginning on just an iPad. After many years creating music and performing in New Orleans, as well as recording and producing as a part of the Recording Artist Residency, he moved to Hawaii to attend massage therapy school. There, he facilitated the creation of an all-women music production collective, instructing production and digital audio workstations literacy. Now HU$H is back in New Orleans, looking forward to rejoining the musical community and helping others bring their visions to life.
Cameron Smith
Lead Open Studio Engineer
Cameron is a musician, producer, and engineer from New Orleans. He graduated from UL Lafayette with a degree in Jazz Studies and Music Media and quickly began work as a live sound engineer. Gigging and touring as a musician and engineer, and producing beats for various hip hop projects led to work as a recording engineer. Cam's goal is to continuously create and serve music, be it as an artist, producer, or engineer.
Maria Rowinska
Program Manager & Performance Instructor
Maria is a musician, teacher, and composer. She provides vocal coaching to Recording Artist Residency and Sunday Sessions artists, adapting technique to their music and style to help them more successfully record and perform. After graduating from Berklee College of Music with a degree in Performance Studies (minor: Contemporary Latin American Music), she led and participated in music projects in Boston and Puerto Rico. She moved to New Orleans in 2021. Currently she sings, records, and tours with the electronic afro-Caribbean project, ÌFÉ. In her spare time, you'll find her cooking, dancing, or watching Jurassic Park for the 80th time (truly).
---
Communications
Lucia Honey
Social Media Content Creator & Manager
Lucia is a video artist, musician, and writer. As Social Media Manager, she documents Material Institute's programs, curates our public presence, and manages digital assets. She's currently an artist in residence at Joan Mitchell Center and studied interdisciplinary art at School of the Museum of Fine Arts at Tufts University. In 2020 was awarded the SMFA Traveling Fellowship to create a new video project in Sicily. She's participated in Offshore, ACRE, and MI's music residency where she recorded the album, Self Help. In her free time she enjoys cooking, learning languages, and travel.
---
Sites / Build
Jaohn Orgon
Sites Director
As Sites Director, Jaohn oversees sites and construction at Material Institute. His innovative developments combine art, architecture, community, and sacred space. Jaohn's properties include The New Orleans Tree House, home to the most climbed tree in America; The Safe House with Mel Chin; The Fire House with Banksy; James Beard nominated Best New Restaurant in America, Cochon; Life Is Art West; High Cloud; and Material Institute. His spaces have appeared in Vice, NY Times, Arte, Art Forum, Atlas Obscura, Artnet, and The Guardian.
Photos: Jonathan Traviesa
---
Material Institute