We're thrilled to invite all songwriters and producers to a Studio Bootcamp with Teeko, a prolific producer, beatmaker, and musician. 
During this immersive studio experience, small groups will work with Teeko to refine existing works and create new ones! Teeko will help participants overcome songwriting roadblocks, demonstrate production details to take songs to the next level, and show how to collaborate across genres. Participants will learn studio skills, broaden their creative possibilities, and reimagine their music, while building relationships with like-minded artists.
Studio Bootcamp will be presented in two cohorts – October 9 + 10 and October 11 + 12. Both cohorts will come together on October 13 to share their work. Bootcamp will run 10am-5pm daily, with lunch included. Experience in a DAW is not required but is preferred. Participants must be available to attend all days in their selected cohort.
To participate in this bootcamp, you must have at least two demos available to workshop. Bring songs you love, songs that need work, songs you'd like to see in a new light!
To sign up, please fill out this form.
Debuting his skills in the DJ competition world from 1999-2003, including two ITF championships, Teeko stood out from the pack as musical and original. His first album, released in 2006, was awarded Best Innovative Producer of the Year by Berklee College of Music. He went on to create the world's first melodic turntable, which led to an invitation to perform at the 51st Monterey Jazz Festival as the first electronic artist ever included in the lineup, and calls to perform with major label artists such as Mark Ronson, Q-tip, Jazzy Jeff, Larry June, Snoop's Jane Handcock, and others.
With a background in education, Teeko has been a guest instructor at Berklee College of Music, SAE Expressions College, The Nueva High School Music Production Class, JDilla SF Music and Tech, and DJ Academy New York, Atlanta, and Denver. Locally in San Francisco, he opens his studio to accommodate selective mentorships with up and coming producers, sharing his experience and paying it forward, powering a loop of inspiration.
Two Cohorts
Oct 9, 10, 13
Oct 11, 12, 13
10am–5pm
2120 Port St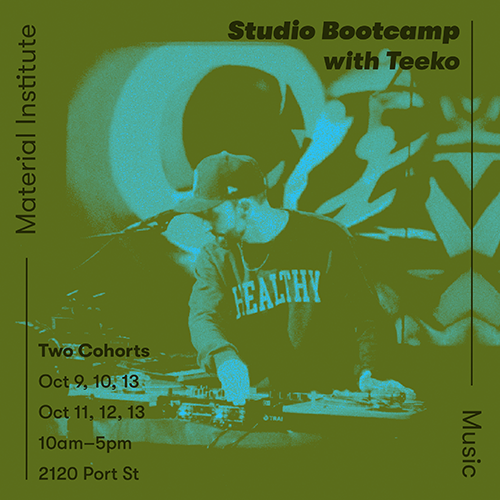 ---
Music | The Embassy Studio