Español sigue
EN
We're hosting a series of events for Hispanic Heritage Month with

Puentes New Orleans

a non-profit dedicated to building bridges between Latin American immigrants and the broader New Orleans community, providing resources and opportunities to move forward. These four events celebrate the variety and wealth of Latin American artistic practices and their importance to contemporary global society.
Fri Sept 22, 6–8pm Film screening of With This Light, independent Honduran film about Sister María Rosa Leggol and her work helping children from impoverished areas by providing food, shelter, education and vocational training
Fri Sept 29, 5–8pm Medicina del Alma: Cultivating Traditional Herbs and Flowers
Thurs Oct 5, 6–8pm Puerto Rican Bomba Workshop with Beto Torrens (drum and dance)
Sat Oct 14, 5–9pm Hecho en NOLA: open market for handcrafted goods and food!
ES
Estamos realizando una serie de eventos para el Mes de la Hispanidad con

Puentes New Orleans

una organización dedicada a conectar inmigrantes latinoamericanos a toda la comunidad de Nueva Orleáns, proveyendo recursos y oportunidades para seguir adelante. Estos cuatro eventos celebran la variedad y riqueza de arte latinoamericana y su importancia para la sociedad global contemporánea.
Viernes 22 de sept, 6–8pm Proyección de Cine Con esta luz, una película hondureña sobre Sor María Rosa Leggol y su trabajo ayudando niños perjudicados tras la educación, entrenamiento profesional y proveyéndoles comida y hogar.
Viernes 29 de sept, 5–8pm Medicina del Alma: Cultivación de hierbas y flores tradicionales
Jueves 5 de oct, 6–8pm Taller de Bomba Puertorriqueña con Beto Torrens (percusión y baile)
Sábado 14 de oct, 5–9pm Hecho en NOLA: mercado de artesanías y antojitos!
Sept 22–Oct 14
22 de sept – 14 de oct
2120 Port St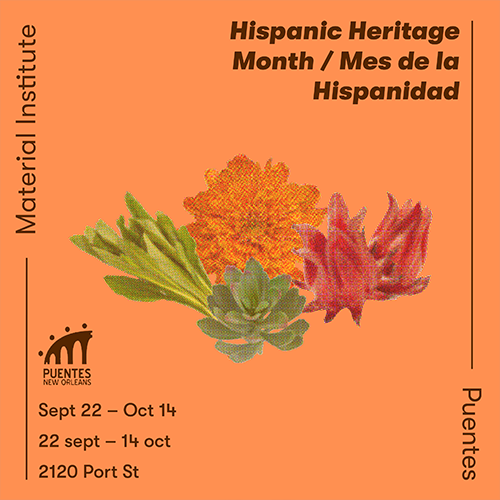 ---
Material Institute